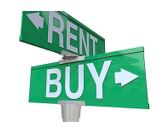 Reasons to Buy Instead of Rent
- It's Yours!
o At the end of the day, it is yours to do what you want. With your own home, you can have pets, place a perennial garden, have a garage sale, and any other opportunity you can think of. Nothing compares to the personalization and privacy that comes with owning your own home. Simple things like hanging a picture on your wall, installing shelving, or mounting your TV might not be allowed in a rental unit.
- Remodeling has its Benefits
o Improving the condition of your home will not only make your life more enjoyable, but it can also increase your home's value and make it worth more. Some renovations that will definitely increase the value of your home are additions, landscaping, central air, appliances, and insulation.
- You can Customize your Space
o Whether you need to knock down a wall to make a larger master bedroom or redo the bathroom to reflect your tastes, owning the space you live in means you have the freedom to do so without worrying about losing your security deposit.
- When you Renovate, you can Save when you Sell
o If you purchase a starter home, years later you may realize you need a bigger place or want to move another city. When it comes time to sell, the improvements you made can get you a tax break and save you some serious cash.
- Plan and Simple, Equity is Awesome
o Owning a home is a good way to increase your personal wealth. Little by little, as you pay off the principal on your loan, you build equity. All that monthly rent you're paying definitely doesn't accrue equity. Equity is the difference between the market value of your home and the outstanding balance on your loan.
o Since your home increased in value and you were making monthly payments, your equity has grown. You can take out a home equity loan or line of credit using your gains for cash to pay for a whole lot of major costs, like medical bills, home improvements, college tuition for your children, or a car.
- Your Cost of Living is Locked in
o Remember the time you rented that amazing apartment you loved so much, and just as you were ready to renew your lease, you got a letter saying the rent was increasing? Not having a rent-controlled living arrangement can really cost you. Owning your own home instead of renting acts as a hedge against inflation. When you have a fixed-rate mortgage, your monthly payment stays the same every year, even if the interest rates are skyrocketing around you.
- You can Increase your Disposable Income
o Since owning a home locks in your costs of living, paying down a fixed-rate mortgage can actually increase your disposable income if you get a small raise at work each year.
- Mortgage Interest Deductions are Pretty Great
o Although becoming a homeowner will leave you with a few extra forms to fill out come tax time, it certainly pays off. Most savings come from mortgage interest tax breaks, and is probably the thing homeowners save most on come tax time.
- You can Ramp up Energy Efficiency
o From adding insulation to upgrading your air conditioning unit, can reduce your monthly utility bill.
- Homeownership Allows you to Build a Second Income Stream
o From taking in a renter in a spare bedroom to renting out driveway space to commuters.
- No Landlord to Kick you Out
o Renters can face unexpected eviction notice if their landlord suddenly decides to sell the home, rent to someone else, or otherwise end the lease.
Find original articles at the following links:
https://www.movoto.com/foundation/basics/9-reasons-buy-home-instead-rent/
https://money.usnews.com/money/personal-finance/articles/2012/04/24/10-reasons-to-buy-instead-of-rent